Always up to date with KEBA!
The highlights of our new wall box software 1.9.2
Customers who choose intelligent charging stations from KEBA will benefit from our new wall box software 1.9.2, which includes the following highlights: OCPP 1.6, control options via web interface as well as session protocol with data export options. Even after purchase, our customers can download this software update from our website and install it to keep their wall boxes up to date – quickly and easily.
---
OCPP 1.6 (Feature set OCPP 1.5)
With our new software we now also support OCPP 1.6 (with the feature set OCPP 1.5). This gives our customers complete flexibility in the choice of their backend. KEBA wall boxes are compatible with any OCPP-based backend, which also makes it easy to switch backends if desired.
Control options via web interface
KEBA customers now enjoy the option of controlling their wall boxes remotely via a web interface. Any device with an Internet browser can be used to do this. There is no need for a cloud or host connection, nor are there any running costs.
Session protocol with data export options
It is now also possible to view, download, filter and process the charging session data from the last three months in the web interface. In this way, the energy consumption can be assigned accordingly, for example, in apartment buildings or for the charging of company vehicles.
Any questions?
You will find all the details in our presentation, which can be downloaded here. We are also happy to help you personally - simply fill out the contact form or contact your sales representative directly.
Software Release News 1.9.2 - EN
New KEBA wall box software 1.9.2
Related articles
6.4.2020
KEBA Anniversary Wall Box: Special offer extended!
We are delighted with the great amount of positive feedback we have received from our customers over the past six months regarding the KEBA Anniversary Wall Box. We have therefore extended our offer for you until 31 July 2020. Which brings things full circle: because now you can benefit from the unique 10th birthday anniversary price for a total of 10 months. And of course each anniversary wall box will continue to be offered with an additional 10-month warranty.
Even in difficult times like these we are able to deliver 100%, and there is - among others - a reason for this: the dedicated commitment of our production staff, who deserve our special thanks.
Take advantage now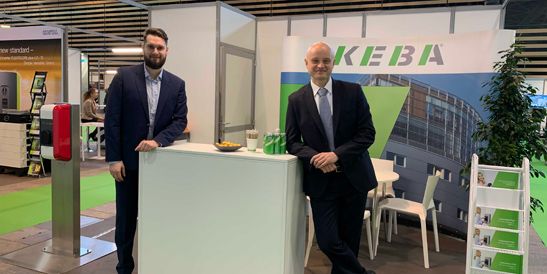 14.2.2019
KEBA at BePOSITIVE 2019
France calling ... again! This time our team is at BePOSITIVE - the national exhibition for the energy transition. And our wall box in the French national colors is on display again. Why not visit us until tomorrow, February 15th, at the KEBA stand 6.1P47?
6.5.2019
Hometec 2019: Visit our e-mobility expert
The home of the future is already here! To showcase the potential of the individual smart home, the top suppliers of the Zander Freiberg electronics wholesaler will be on hand at the Hometec trade fair on May 8, 2019. And since home charging stations are indispensable in the e-mobile age, KEBA will also be there.
Read more