Our expert as speaker
The EVS 32 electromobility trade show in France is bringing KEBA onto the stage! Come see our expert Dawid Zajkowski. At a roundtable discussion he will describe the three key factors for creating an excellent charging experience for users – at 3:00 pm on Monday, May 20. You can also visit KEBA at Stand C13 to experience our smart wall boxes first hand.
---
Related articles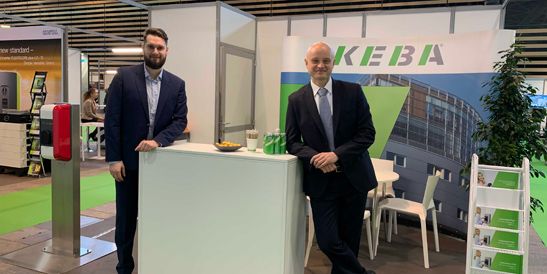 14.2.2019
KEBA at BePOSITIVE 2019
France calling ... again! This time our team is at BePOSITIVE - the national exhibition for the energy transition. And our wall box in the French national colors is on display again. Why not visit us until tomorrow, February 15th, at the KEBA stand 6.1P47?
27.11.2019
A vision becomes reality: 10 years of electric mobility at KEBA.
Browse through the milestones of our pioneering history on our anniversary page. Together we also take a look into the future of mobility: Our KEBA expert Andreas Plotz gives exclusive insights into the world of tomorrow... and the day after tomorrow in an exciting video. And if you want to celebrate with us, you can purchase one of 10,000 anniversary wall boxes at a special price.
Read more
20.3.2019
Electric mobility premiere at the eltefa 2019
For the first time ever, the eltefa 2019 will be hosting a special exhibit "The E-Road". Something KEBA cannot miss out on! Visit us and learn all about our wall boxes that are MID-certified and compliant with the German calibration law, thus making it possible to charge and bill in public areas. In the outdoor driving course you can not only test your driving skills, but also our charging stations.
Read more